So tell me…..How hard can it be to find a bag that fits your lifestyle, needs, wardrobe and price point? Well?….as it happens, pretty hard if you're a picky bag lady like myself.
It's not that I'm particular (of course I am), it's not that money's no object (of course it is) and it's not that I don't know what style of bag I want (of course I don't – I am constantly flip-flopping between leather and canvas, shoulder of cross body) – I've just found it especially difficult to get a good quality bag that is fine for business and travel, that's not too casual, not too smart and yet fits to my price point. I'd love to justify an uber bag but honestly, my budget is more blueberry than Mulberry, so it was towards the sma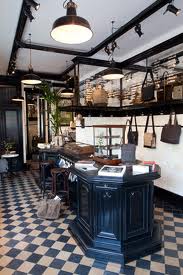 ll indie brands I directed my attack.
Having found Royal Republiq in the Monocle Magazine, I raved obsessively (yes, I think raved is the word) about the brand, the simplicity of design and their value price point, but what I didn't take into consideration was the quality which, and I hate to say this online, disappointed me to the extent that I exchanged the first purchase and have just asked for a refund on the second.
It broke my heart – seriously. I truly wanted to love the bags but when workmanship is not up to scratch on the straps or the cotton twill lining dies my hands and my pink leather purse, I have to make a stand as a consumer.
So it was with this experience fresh in my mind that I went, dyed purse in hand, to Property Of in Amsterdam hoping they could help with my plight. 40 minutes of bag browsing and one Stumptown espresso later ( free and on the house – now that's service) I emerged with a coated cotton/linen tote. A sale item with adjustable straps and more to the point EXACTLY what I wanted.
With a Japanese edge to the styling and the genre of the bags sitting between male and female, this is not a place for a chi chi leather tote with a signature tassel or girls name. The bags are functional, simple, and carefully designed serving their purpose as a vessel for life items whilst turning the heads of those stylish folk who are clearly in the know.
So my weekend was hereby classed a success and my bag dilemma is over (for now). I am under no illusion that my questionable bag obsession will take me down another route in the near future, but for now, I have what I need, what I want and I didn't pay silly money in the process.